Slam Stewart was an exceptional jazz musician who expanded the expressive possibilities of the double bass with his unique style and technique. Whether he was comping with a slapping pizzicato, or soloing with the bow he had a big, rough, gut string sound. He had perfect time, great intonation and a seemingly endless supply of energy. Slam was in many respects the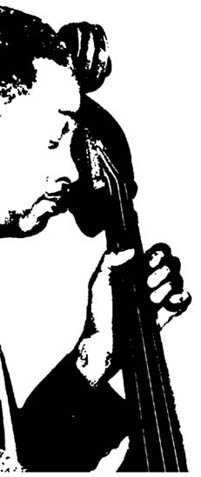 most advanced bassist of the swing era: he extended the range of the acoustic bass: playing up to d'''' (five octaves above the open d). His rhythmic syncopations are extremely complex. He played some of the most sophisticated music of his time, but with lightness and humour.
This book of transcriptions for the contrabass features:
28 solos from Slim and Slam recordings

solo from "Stormy Weather" with Fats Waller

session with Lester Young including outtakes

17 solos from the Art Tatum trio

the 1945 duet at Town Hall with Don Byas

With Coleman Hawkins - a warm up, then three tunes, three takes each

Red Norvo's Famous Jam Session with Charlie Parker and Dizzy Gillespie
Some of my favorite bass playing is from the 1947 recordings with the Lionel Hampton All-stars. Slam is 33 years old and at the top of his game; the solos are longer, more developed, his technique is dazzling. The book ends as it began with a 1951 version of Flat foot floogie, recorded with Slim Gaillard, followed by the 1952 Art Tatum trio.
see a list of the solos transcribed in this book